As its name suggests, "Nouvelle Epoque," where you can experience a "new era," creates French dishes unique to Kyoto making you feel a new era that fuses gourmet food originating from the late Masakichi Ono, also known as the "Father of Japanese French Cuisine" who built the foundations of Okura's French cuisine, and the food culture of Kyoto. The beautiful dishes that use seasonal ingredients while inheriting the traditions of Okura's French cuisine express the changing seasons in Kyoto. Have a unique time at this restaurant that is colored with Kyoto's aesthetic senses.

CHEF
Ryoichi Yamashita, Executive Chef
PROFILE
Born in 1973, joined Hotel Okura in 1992 and gained experience in the Western cuisine department of the hotel, including the French cuisine restaurant "La Belle Epoque." From 2003, he worked at "Ciel Bleu" (which has two Michelin stars now), the contemporary French restaurant of Hotel Okura Amsterdam. In 2006, he went to France and further studied at the one-Michelin star restaurant "La Maison Jaune" in St Rémy de Provence. After returning to Japan in 2007, he displayed his skills at Hotel Okura Tokyo (currently The Okura Tokyo). He served as the head chef of Hotel Okura's wine and dining restaurant "Duke" from 2015, deputy head chef of The Okura Tokyo's all-day dining restaurant "Orchid" in 2019, and the deputy head chef of the same hotel's French restaurant "Nouvelle Epoque" in 2020.
He was appointed as the executive chef when Hotel Okura Kyoto Okazaki Bettei opened in 2022.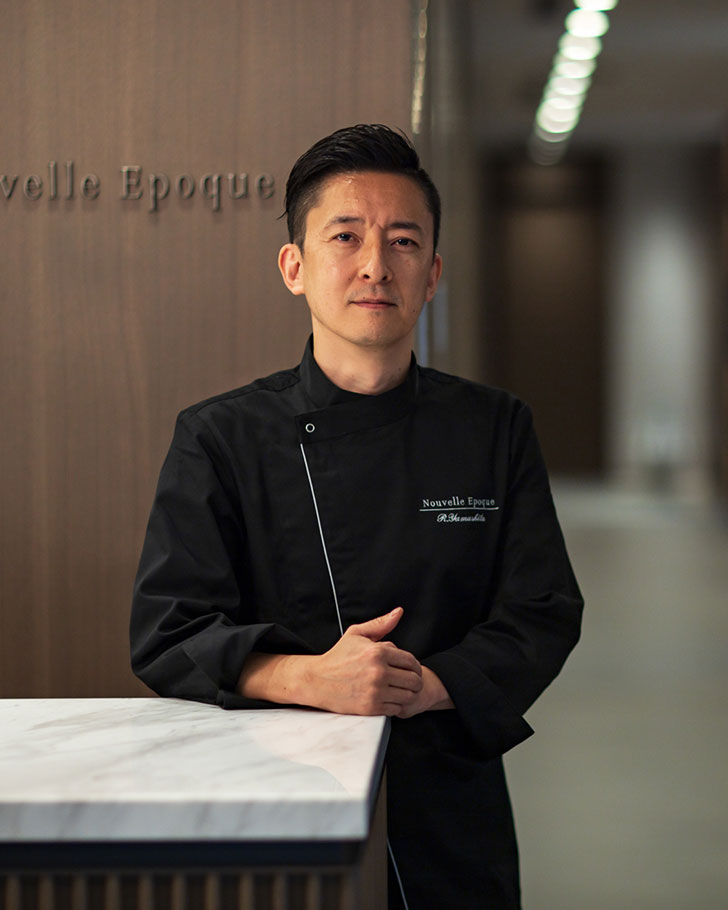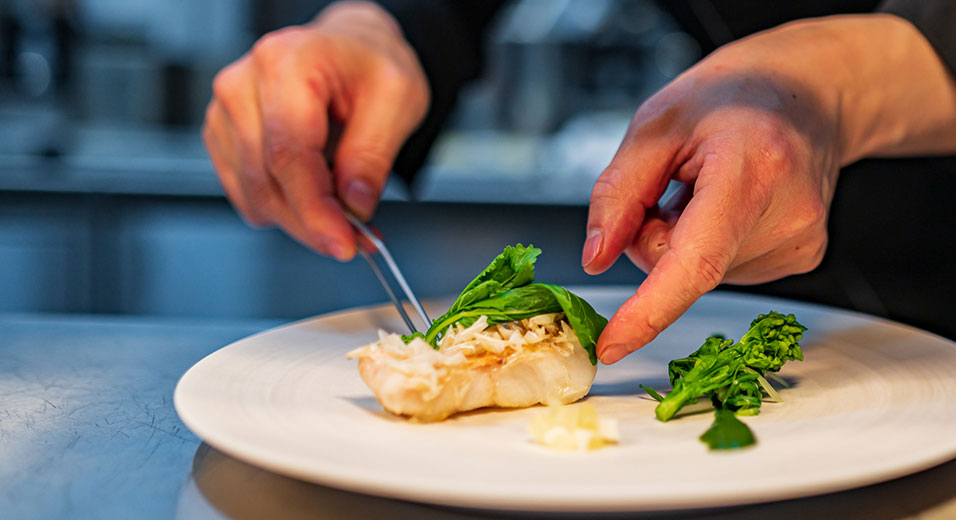 Philosophy
Food is something to enjoy with all five senses. I believe that inspiration will only come when all the elements that satisfy the five senses come together.
With the blessings of nature and in honor of earth and the producers, I make the most of the powerful and delicate natural flavors of Kyoto's seasonal ingredients. I constantly strive to make our guests feel Kyoto's four seasons with their five senses through heating, which becomes the best moment when our guests eat, texture and flavor, and presentation that combines Western and Japanese styles.
RESTAURANT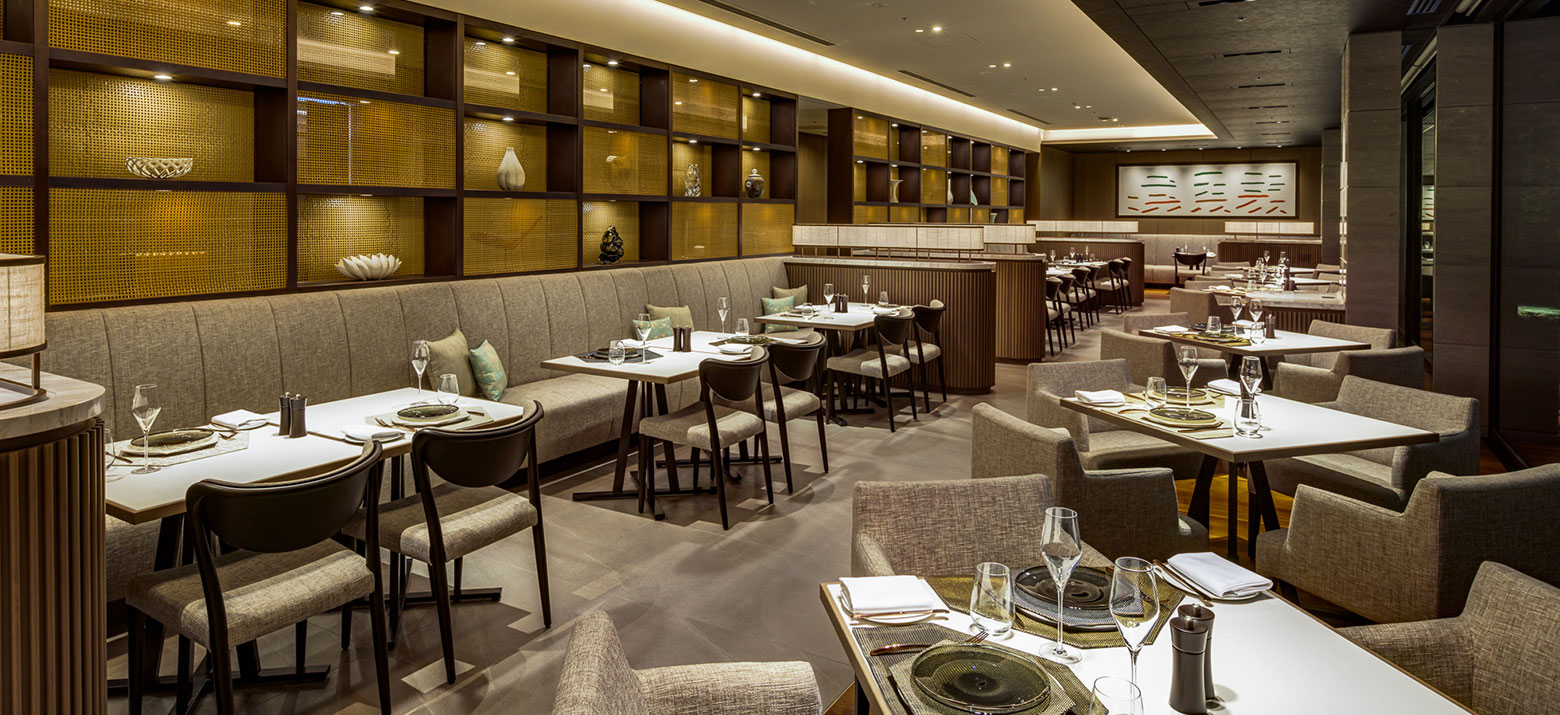 Dedication to space design and arrangement
There are bamboo works that have been made by skilled craftsmen artfully weaving each bamboo through their advanced handicraft skills, and Asahiyaki pottery pieces that embody the philosophy of "kirei-sabi (elegant beauty)" in a modern way. Through the art pieces by up-and-coming artists who are active mainly in Kyoto, among other things, the aesthetic senses of Kyoto in a new era that put color everywhere will delight the eyes of guests.
Our tableware includes styling place mats with foils unique to Nishijin-ori textile that capture the light, sugar pots and milk pitchers of Kaikado that become more beautiful as it ages, and bowls made by up-and-coming artists. The sensibilities that are awakened by touching the well-honed craftsmanship of the tableware will lead to a richer gastronomic experience.
Private room
A view of Kyoto's machiya (traditional merchant's house) with a series of beautiful triangular roofs. That sloped roof has been incorporated in the design of this private room. This space wherein the hipped roof, which is also a characteristic of Japanese architecture, has been sculpturally reproduced, will make you feel an elegant vibe.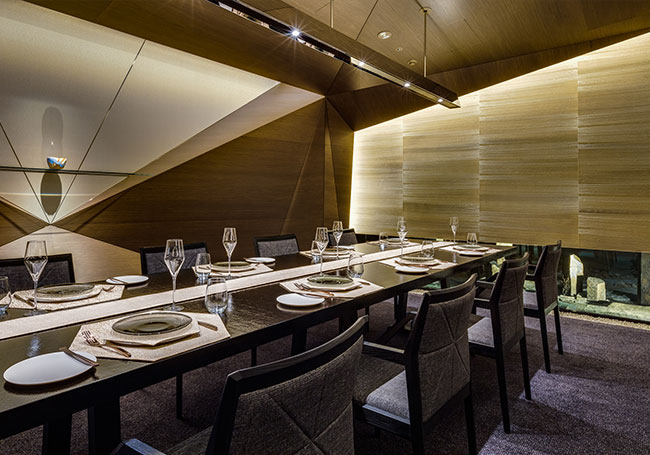 Restaurant information
Hours
Breakfast 7:00~10:00
Lunch 12:00~15:00(L.O14:00)
Dinner 17:30~21:30(L.O20:00)
Prices
58 seats + 1 private room
(for up to 10 people)
on the first floor
For breakfast, we ask that you wear "Smart Casual" clothing and refrain from wearing short pants, sandals, and sleeveless shirts and a hat for men.
For lunch,we ask you to wear "Smart Casual" clothing (for male guests, we recommend wearing a jacket)
For dinner,we ask you to wear "Casual Elegant" clothing (for male guests, we recommend wearing a jacket and collared shirt)
Children in junior high school (12 years old) or older are allowed inside.
LOUNGE
Enjoy a moment of relaxation surrounded by a beautiful garden and an elegant space, along with a cup of tea.
Hours
Weekdays
10:00~22:00(LO.21:30)
Weekends & holidays
10:00~21:00(LO.20:30)
Seats
The first floor of the hotel
20 seats + 5 seats on the counter